How To Use Artificial Turf For Stairs Décor In Inland Empire?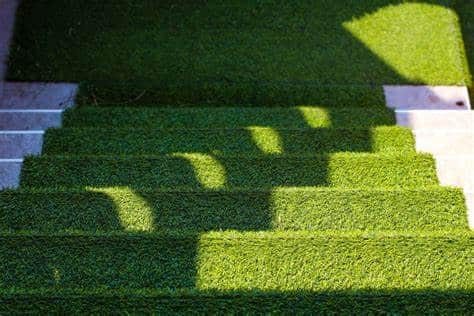 The contemporary world of interior design has presented homeowners with an opportunity to transform the conventional aesthetic concepts into the realm of the innovative. An exciting and somewhat novel twist to traditional home decor is the application of artificial turf to decorate stairs. As unusual as it may sound, artificial turf on stairs not only lends a fresh and vibrant feel to your space but also incorporates an element of nature indoors.
Artificial turf, predominantly used for lawns and sports fields, has a sturdy and long-lasting texture. It brings the serenity of greenery indoors while offering a unique visual appeal. Here's a step-by-step guide on how to use artificial turf for stairs décor.
Select The Artificial Turf
The first step is choosing the artificial turf that suits your style and requirement. You'll find various types, each with different textures and shades of green. For indoor use, opt for a softer texture that is comfortable to walk on, yet robust enough to endure foot traffic.
To ensure the artificial turf fits your stairs perfectly, accurate measurement is crucial. Measure the width, length, and height of each step, including the risers. It's advisable to buy a little extra turf to allow for any miscalculations or adjustments.
Once you have your measurements and turf, you can cut the turf to fit each step. Use a sharp utility knife for precise cuts. Start from the bottom of the stairs and work your way up. Apply a high-quality adhesive to the step and press the cut turf onto it. Make sure to align the turf correctly and apply pressure to create a firm bond.
For extra security, you may want to use a stair nose or edge to hold the turf in place. This not only adds safety but also provides a professional finish to the look.
Artificial turf on stairs is relatively easy to maintain. Regular vacuuming is sufficient to keep it clean, and if a spill occurs, you can simply clean it with warm soapy water.

FAQs
Is Artificial Turf Safe To Use On Stairs?
Absolutely. However, it's recommended to use a stair nose or edge for additional safety, particularly on steep stairs, to prevent slips or falls.
How Durable Is Artificial Turf For Indoor Use?
Artificial turf is known for its durability. It can withstand high traffic and doesn't wear out easily. If maintained properly, it can last for several years without losing its appeal.
Can I Install Artificial Turf On Stairs By Myself?
Yes, with the right tools and instructions, it's quite possible to install artificial turf on stairs as a DIY project. However, for complex staircases or large projects, professional help may be advisable.
Embracing the concept of artificial turf for stairs décor is an innovative way to add a touch of nature to your interior. This durable, maintenance-friendly, and aesthetically pleasing alternative to traditional stair coverings is becoming increasingly popular. Remember to choose the right turf, measure accurately, install securely, and maintain regularly. Call (951) 330-3088 to speak with Inland Empire Artificial Turf and learn more about our wonderful services.  

Conclusion
Call the experts of Inland Empire Artificial Turf at (951) 330-3088 right away!

Our Services
Turf Services
Artificial Grass
Golf Putting Greens
Playground Turf
Pet Turf
Find Us